Auckland to Invercargill
After flying the Avro Ten, the Faith in Australia, from Sydney to New Plymouth on 3 - 4 December 1933, Charles Ulm and G.U. Allan made a "barnstorming" tour of New Zealand to raise funds and to publicise their case with the New Zealand Post Department for an official airmail on the return journey to Australia.
Auckland to Invercargill
The tour included a non-stop official airmail flight from Auckland to Invercargill on December 12. The demonstration that a non-stop flight could be made from one end of New Zealand to another both helped his case for the trans-Tasman airmail and the case for regular internal airmail flights. The flight left Auckland at 4.30 am and arrived at Invercargill 8 hours later.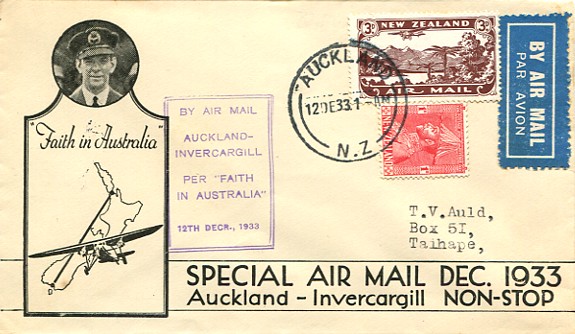 5,000 special covers were produced by the Vacuum Oil Company and show a picture of Ulm.
There was a 3d airmail postage rate on top of the ordinary surface rate of 1d. A cachet was applied at Auckland and a backstamp on arrival at Invercargill.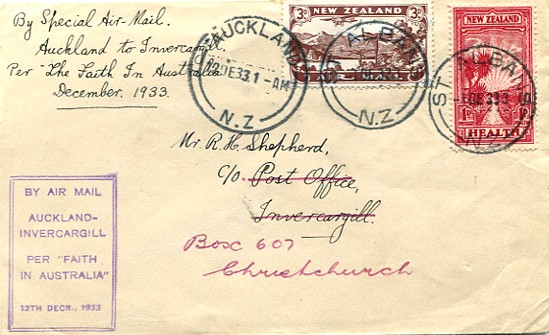 The second example was postmarked in St Albans on 1 December and then again in Auckland on 12 December. It is franked with the 1933 Health Stamp as well as the 3d airmail.

Due to the volume, more than one backstamp was used in Invercargill as can be seen in the examples.
The total carried was10,400 items.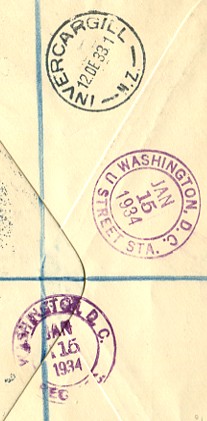 This registered cover is addressed to Washington D.C. where it was backstamped on 15 January 1934. It is franked with 1s 1d which seems to be 2d too much.
The airmail rate for the flight to Invercargill was 3d in addition to 1d surface rate. The additional rate to be flown on USA airmail services was 4d and the registration rate was 3d which gives a total of 11d.
Likely sent from Wellington on 27 December on the SS Maunganui which arrived in San Francisco on 13 January 1934. That fits with the Washington D.C. backstamp.

---
All scans were made by the author. Information on this page is taken from:
Airmails of New Zealand, volume 2 (1986) compiled by Douglas A Walker, and The New Zealand Airmail Catalogue, (2nd Edition, 1994) by James Stapleton.
Both are published by the Air Mail Society of New Zealand