Three shillings
The 3/- was first issued with single watermarked paper on 1 May 1935 with perf 14-13x13½. and then appeared perf 13½x14 in November 1935. In August 1936, it appeared on multiple watermarked paper, perf 14-13x13½. The direction of the perforation in each of these was from left to right.
There was only one frame plate numbered 1 and a single unnumbered centre plate.
The plates were handed over to Waterlow in September 1940 and in February 1941, 4,320 sheets were ordered. The colour of the frame was chestnut and is distinct from all the other printings. They were perforated 12½. This is the scarcest of the 3/- perforations.
The plates were returned to De La Rue on 20 November 1941.
In September 1942, stamps on coarse paper were issued perf 14x13½. There were actually two different perforation heads, one was 13¾x13½ and the perforations went through both the left and right margin while the other, more common, was 14¼x13½. It is shown below. The direction of both these perforations were from bottom to top.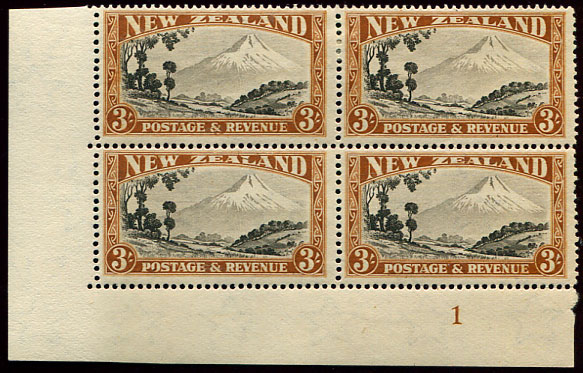 The stamps were withdrawn on 30 April 1947.
---
The above information is taken from The Postage Stamps of New Zealand Vol 1 and 2 published by the Royal Philatelic Society of New Zealand in 1938 and 1950. All scans were made by the author.